Sleep Apnea Treatment in Jacksonville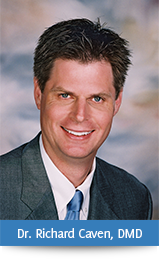 My name is Richard Caven and I am a fifth generation, Florida dentist practicing family and cosmetic dentistry in Jacksonville as well as offering treatment for Obstructive Sleep Apnea.  My desire is to preserve the personal doctor / patient relationship that is becoming more and more difficult to find.  We are committed to understanding our patient's desires and tailor fitting a plan to help them achieve those goals.
We absolutely love performing amazingly beautiful dentistry for our patients, but we are also passionate about treatment for Obstructive Sleep Apnea (OSA).
Excellent dentistry can be Life Changing for patients, but treatment of OSA can be Life Saving.
Over the years, I have seen how harmful Obstructive Sleep Apnea can be.  It affects your health, demeanor and quality of life.  It truly is a serious and chronic medical condition. 
Now dentistry has a compelling alternative to the CPAP machine.  Call us for a free consultation or for more details to see if this treatment is right for you or your loved one.


Snoring or Sleep Apnea?
Did you know that everyone with Obstructive Sleep Apnea snores?  While the opposite isn't always true (everyone that snores does not necessarily have OSA), it is a strong warning sign.  So Don't Ignore The Snore!
If you, or someone you know, snores or if you are worried about the potential of Obstructive Sleep Apnea, I urge you to get a diagnosis and treatment. 


Did you Know?
Sleep Apnea can affect patients of normal weight

An estimated 22 million Americans suffer from OSA (that's about 1 in 14 have it) 80% of those are undiagnosed!

It has been related to:


High Blood Pressure, Stroke and Heart Disease
Type 2 Diabetes
Depression
Traffic Accidents due to Persistent Drowsiness
Erectile Incompetency
Weight Gain and Difficulty Losing Weight
Teeth Grinding
Marital Disruption due to Loud Snoring

It is dangerous to treat snoring alone without being tested for OSA
You can be tested in the comfort of your own home – arranged by Dr. Richard Caven
THERE IS A DENTAL ALTERNATIVE TO THE CPAP MACHINE !
Call us for a free consultation at (904) 645-3366